There are still players who stand out in a game full of big names.
Victor Wembanyama — 7-foot-4
Victor Wembanyama, a top draft prospect, is going to be one of only a few NBA players who are bigger than 7-foot-4. Wembanyama thinks that his size, ability to dribble, and ability to shoot will set him apart from the many big men who have come before him.
Before Victor Wembanyama starts playing in the NBA, look back at players who were bigger than 7-foot-4 and played in more than 100 NBA games.
Gheorghe Muresan — 7-foot-7
NBA debut: 1993
Games played: 307
Muresan and Manute Bol were both the biggest players in NBA history. He played professionally in Romania before being picked 30th overall by the Washington Bullets in the 1993 NBA Draft. Even though injuries kept him from playing at his best, he won the Most Improved Player award with 14.5 points, 9.6 rebounds, and 2.3 blocks per game in 1995-96. Muresan became well-known outside of the NBA when he starred in the 1998 movie "My Giant" with Billy Crystal.
Manute Bol — 7-foot-7
NBA debut: 1985
Games played: 625
Manute Bol went from Sudan to the NCAA Division II school, the University of Bridgeport, and then to the then-Washington Bullets, a unique path to the NBA. The 31st pick in the 1985 NBA Draft changed the defense right away. In his first year in the NBA, he averaged 5.0 blocks per game, a career-high, and an NBA rookie record. In 1985-86, he was named to the All-NBA Defensive Team. In his 10 NBA seasons, he averaged 3.34 blocks per game, which is second all-time. Bol was a humanitarian and political leader in his home country of Sudan. He died in 2010 at the age of 47. Bol Bol, his son, plays for the Orlando Magic right now.
Shawn Bradley — 7-foot-6
NBA debut: 1993
Games played: 832
The Philadelphia 76ers picked Bradley as the second overall pick in the 1993 NBA Draft. This was after he had a great college season at BYU. In his first five seasons in the NBA, he stood out on defense, with an average of 3.4 stops per season. Bradley played for the Sixers and the Nets before joining the Dallas Mavericks. He spent the last eight and a half seasons of his career with the Mavericks. Bradley played basketball for 12 years, and during that time, he scored 8.1 points, 6.3 rebounds, and 2.5 blocks per game. Bradley was in a terrible bicycle accident in 2021 that left him crippled.
Yao Ming — 7-foot-6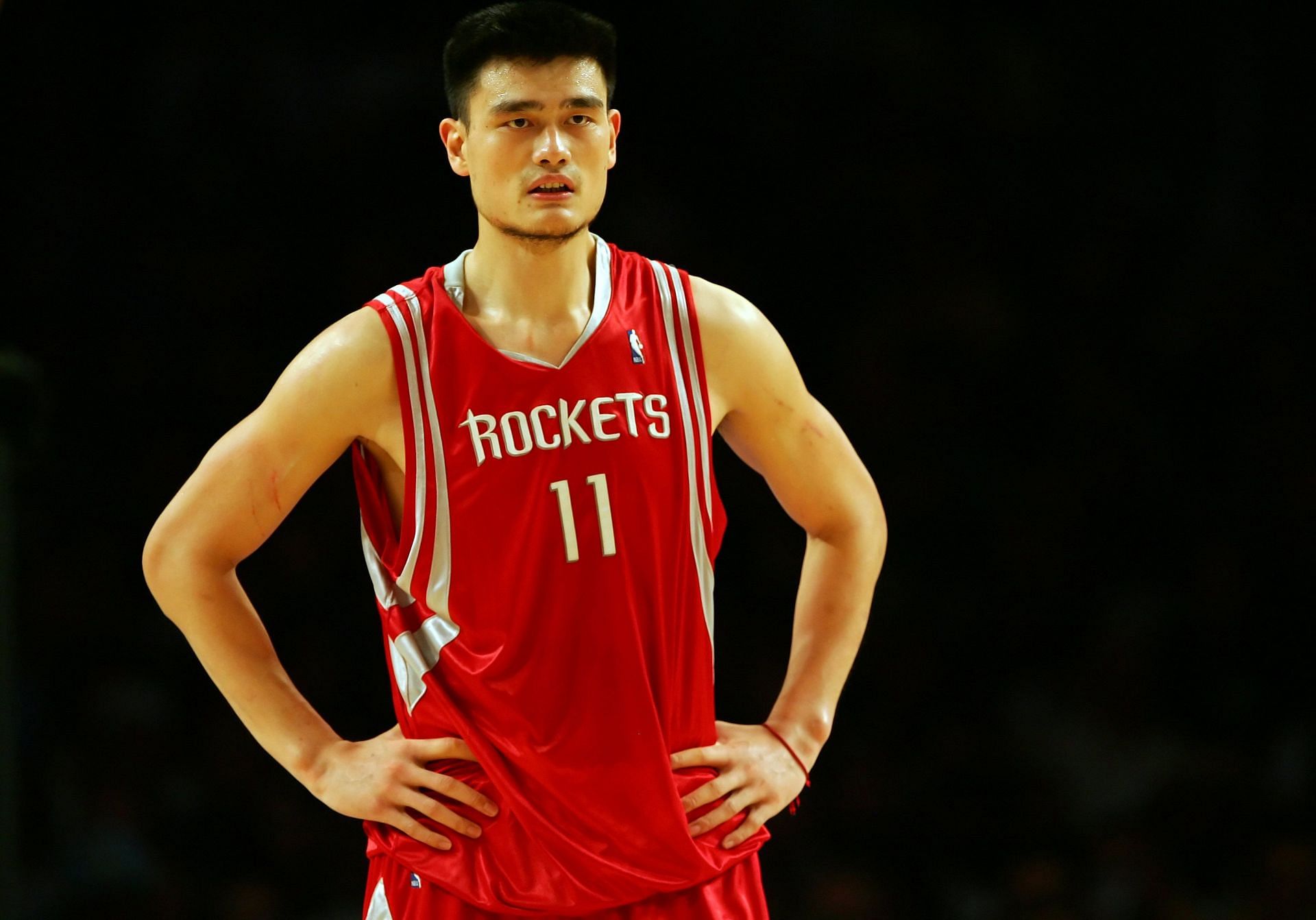 NBA debut: 2002
Games played: 481
Yao was one of the two No. 1 overall picks on this list. When he was picked by the Houston Rockets in 2002, he was already a worldwide star. Before he went to the NBA, he played officially in China for five years and won the MVP award in 2001. As soon as he got there, he made a big difference. He averaged 13.5 points, 8.2 boards, and 1.8 blocks during his first season. Because of this, he was picked for the first of eight All-Star teams in a row.
Yao averaged 19.0 points, 9.2 rebounds, and 1.9 blocks over his eight seasons in the NBA. He had three straight seasons with 20 or more points (2005–2008). He is in charge of the Chinese Basketball Association and was admitted into the Naismith Memorial Basketball Hall of Fame in 2016.
Chuck Nevitt — 7-foot-5
NBA debut: 1982
Games played: 155
Nevitt was picked by the Houston Rockets with the 63rd overall pick in the 1982 NBA Draft. He played for five different teams throughout nine NBA seasons. Nevitt is the tallest player in NBA history to win a title. He did so with the 1985 Lakers.
Mark Eaton — 7-foot-4
NBA debut: 1982
Games played: 875
Even though Eaton was picked in the 72nd spot in the 1982 NBA Draft, he became one of the best defensive players of the decade. During his 11 years in the NBA with the Utah Jazz, he won Defensive Player of the Year twice (1985 and 1989) and was named to five All-Defensive teams (1985–1989). He has the most blocks per game for a career (3.5) and a single season (5.6 in 1984–1985) in NBA history. Eaton was the most consistent player on this list. In nine of his 11 seasons, he played in at least 80 games. He died in 2022 when he was 64 years old.
Rik Smits — 7-foot-4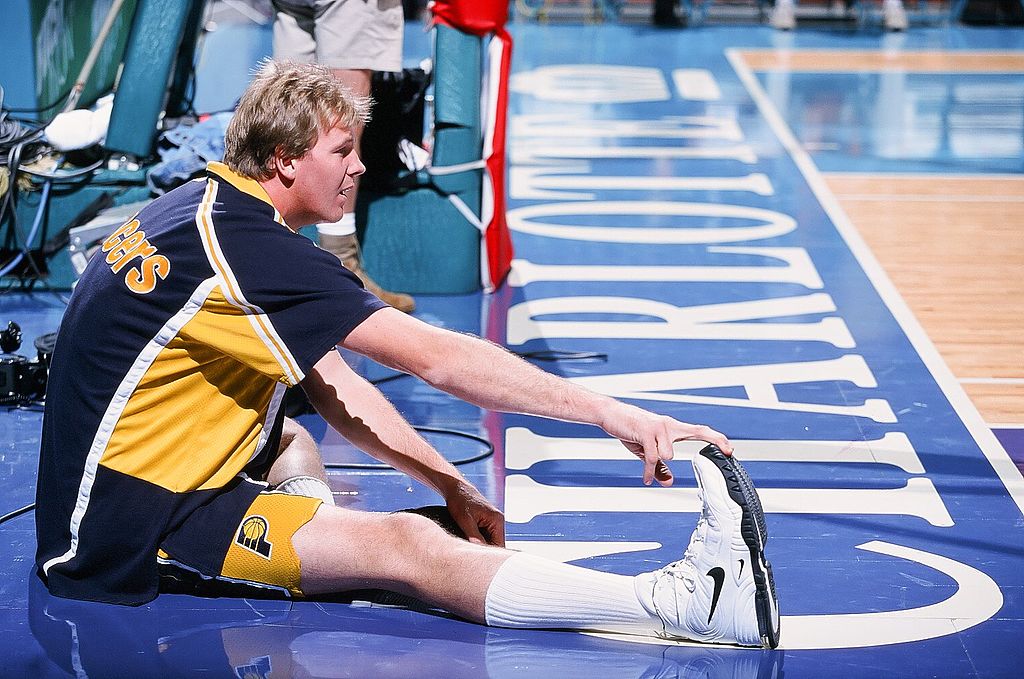 NBA debut: 1988
Games played: 867
Smits was born in the Netherlands and went to college at Marist College. The Indiana Pacers picked him with the second pick in the 1988 NBA Draft. Smits averaged more than 10 points every season of his 12-year career. His best season was 1995-1996 when he scored 18.5 points on 52% shooting. Smits was an All-Star in 1998, and when he stopped in 2000, he had averaged 14.8 points, 6.1 rebounds, and 1.3 blocks over his career.
Ralph Sampson — 7-foot-4
NBA debut: 1983
Games played: 456
Sampson was one of the most-anticipated rookies in NBA history; after a famous college career at the University of Virginia, the Houston Rockets picked him first overall in 1983. Sampson lived up to the hype in his first NBA season, averaging 21 points, 11.1 rebounds, and 2.4 blocks per game. He won Rookie of the Year and made his first of four straight All-Star teams. Even though injuries slowed him down, he played for nine seasons and averaged 15.4 points, 8.8 rebounds, and 1.6 blocks per game. He stopped in 1992. He got into the Naismith Memorial Basketball Hall of Fame in 2012.
Boban Marjanovic — 7-foot-4
NBA debut: 2015
Games played: 296
Boban Marjanovic had a great run in Europe, where he won three Most Valuable Player awards in the Serbian league. In 2015, he joined the San Antonio Spurs as an undrafted free agent. Since then, he has found a spot on the bench on six different teams over the past eight years. Like Muresan before him, Marjanovic's playing in "John Wick: Chapter 3 — Parabellum" brought him more attention. Marjanovic's career numbers are 5.6 points per game and 3.6 rebounds per game going into the 2023–24 season.