Julius Randle was fined $50,000 following a confrontation with Cam Johnson of the Suns. And he expresses regret for letting the Knicks down with his suspension. " It hurts that I couldn't be there down the stretch," Randle said after being kicked out late in the third. On Sunday morning, New York Knicks forward Randle struck an apologetic tone at shootaround. And his team is preparing to take on the Los Angeles Clippers. Randle's removal from the Knicks and 115-114 loss to the Phoenix Suns last Friday night. He also expressed regret for letting his teammates down in a game that the Knicks had a chance to win.
Julius Randle
As Julius Randle states, he expressed his disappointment by saying, "It hurts not to win." "I'm more disappointed that I wasn't accessible to my team down the stretch; that's what hurt me the most, and I apologize to the guys for not being able to be there.
Randle and Suns guard Cam Johnson got rough with 2:30 left in the third quarter. While Randle attempted to box out Johnson on Evan Fournier's 3-point attempt, Randle dashed over to Johnson after the bucket and chest-bumped him. While the two players were exchanging words, a referee moved between them, but Randle pulled the official's hand out of the way and pushed Johnson. Both teams' players eventually stepped in between the two players. Randle immediately dismisses the game for initiating and escalating the situation.
Moreover, Julius Randle scored 25 points and was dominating a Suns team that was missing both Chris Paul and Devin Booker at the time. The Knicks were also leading the Suns, 86-76. The game turned to Phoenix's advantage when Randle ejected. However, Johnson nailed the game-winning shot to help the Suns beat the Knicks. And that was New YorkKnick's seventh straight loss. Randle has fined $50,000 by the NBA on Sunday afternoon. It is for "shoving Johnson and making contact with a referee," as well as "noncompliance with an NBA investigation."
Randle described his ejection as "a little bit surprising." But it's part of the game. I figured I'd get one and done with it, but I didn't see the double tech coming, so it's still my fault. "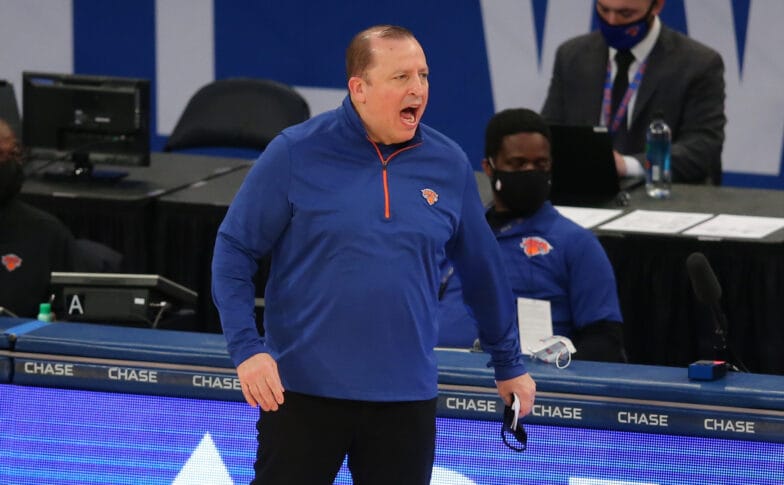 Tom Thibodeau
Tom Thibodeau, the New York Knicks head coach, agreed that Randle's temper got the best of him. However, he did not agree with the two technicalities that resulted in his dismissal.
Thibodeau said, "It's an emotional game." "There will be exchanges, and you must be careful not to cross that line, which everyone understands. It was sad." To be honest, I believed it had reached its limit. Also, you can't leave it up to the officials to decide. However, we may be able to learn from the experience."
It's the Knicks' second consecutive difficult loss. And they haven't lived up to many people's preseason expectations. As a No. 4 seed in the East, they made the playoffs last season. The Knicks have a 25-38 record right now. In the Eastern Conference, they currently ranked 12th. New York would not just be out of the playoffs if they began today. With six games separating them, it wouldn't even cut it in the play-in tournament. In addition, the Atlanta Hawks, who are currently rank in tenth. There are still 19 games left in the regular season. If the New York Knicks want to make the play-in tournament, they'll have to put in a lot of effort. However, if the New York Knicks have a chance at getting there, It'll need more from Randle, who can't afford to get ejects from games at critical moments.
Read also: Lakers vs. Warriors: LeBron can still work miracles against the Warriors' defense.